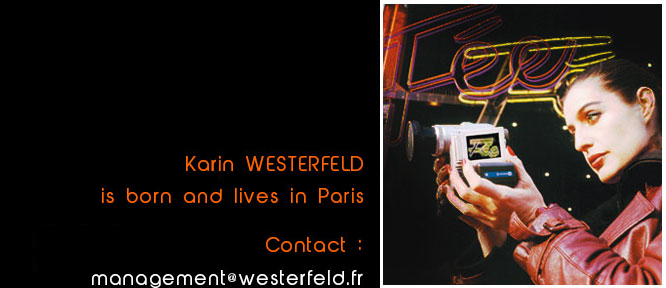 Au grés de sa carrière de Photographe et de vidéaste, Karin Westerfeld a parcouru le monde pour des magazines ou pour ses propres recherches depuis 20 ans. Aujourd'hui son fond iconographique lui sert de matière brut pour son travail de plasticienne qui évolue toujours à la recherche de nouveaux procédés de ses recherches de couleur, d'ombre et de lumière.

Elle se forme au support multimédia et au web design.

Art director, sa pratique quotidienne des nouvelles technologies et sa maitrise des arts graphiques lui permettent d'expérimenter tout en défendant la photographie comme art évolutif.

Artiste plasticienne, elle utilise cette gamme de compétences pour travailler dans un espace qu'elle a su créer à la confluence de toutes ces disciplines.
Karin Westerfeld a été lauréate du concours lancé pendfant la FIAC (Paris) par Yves Saint Laurent.

During her career as photographer and videographer, Karin Westerfeld has traveled the world for magazines or for its own research for 20 years. Today she uses her iconographic background raw material for her work as a visual artist which always evolves using new processes along her researchs in color, light and shadow.

She trained in multimedia and web design.
Art director, her daily practice of new technology and control of the graphic arts allow her to experiment while defending photography as scalable art.

As visual artist she uses this range of skills to work in a space she has created at the confluence of all these disciplines.
Karin WESTERFELD has been laureat of the "Yves Saint Laurent award" during the 2007 FIAC (Paris).